- Corporate events, alumni parties, fund raising galas -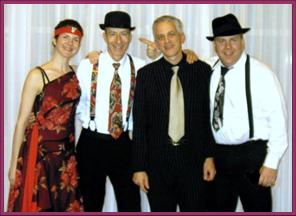 Theme parties
Theme parties are quite popular. Specifically, "Roaring 20s" parties are all the rage. Pictured to the right is our "Speakeasy Quartet". This band can be expanded up to 12 pieces. We also provide optional dancers to augment the music.
There is a video of our large band with dancers on our "home" page.
Bob Butryn, the band leader and clarinetist, is also the dancer who performs with Eva Brothers. That works out great for you. Since Bob is already at the event leading the band, he does not charge for his dance services. That's right, Bob's dance services are FREE when he is the band leader.
The band is comprised of the finest musicians in the area, and Bob and Eva are experts in the dance styles that were popular in the 1920s: swing, tap, Charleston, one-step, animal dances (these are hilarious) and tango. In addition to performing their routines, Bob and Eva dance among and with the guests as well as teach fun, brief dance lessons throughout the evening.
Below are a few samples of dance routines that can be performed at your "Roaring 20s Event".
Wild Swing:  Break out the fedora, suspenders and the "hep" talk.Our female dancers will be flying through the air during our swing routine to   "Ain't Nobody Here But Us Chickens
<<<< Click on the picture to see a video of our wild swing routine
Zany Charleston: Outrageous liberation for the time, the clothes and dance of the 1920s just scream  "let's have fun."
<<<< Click on the picture to see a video of our zany Charleston.
---------------------------------------------------------------------
Other theme party ideas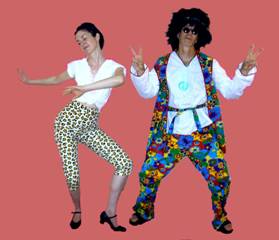 1960s Theme Party
As Austin Powers would say, "Yeah baby". Bob and Eva (pictured to the left) perform their high-energy 60s routine to the song "Land of 1000 Dances" at many events. Routines like this one take events to another level. They inspire the guests to more quickly "get into the party" and join in the fun on the dance floor.
After dancing their routine, they lead a "group dance" which includes many of the dances of the 1960s such as the pony, mashed potato, frug, watusi, jerk, monkey, funky chicken and the twist.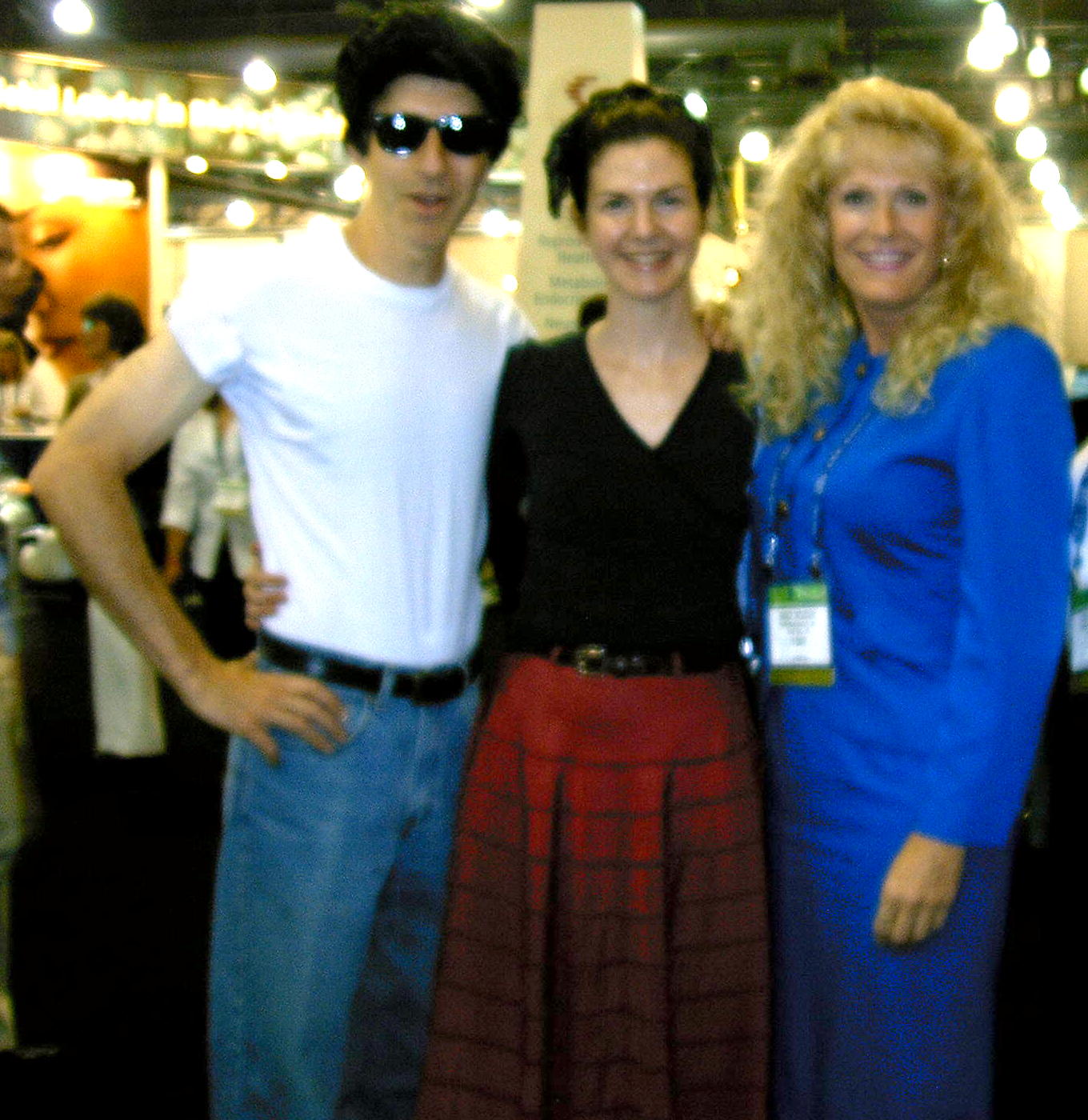 1950s Theme Party
Pictured to the left are Bob, Eva and a happy guest at a 50s theme party at the Philadelphia Convention Center. At this event, Bob and Eva performed their dance routine to the classic "Johnny B. Goode", and danced with the guests throughout the evening. Fun was had by all.
We also provide music and dancers for these other theme parties: 1970s, 1980s, Mardi Gras, Hoe-down and Oktoberfest.
--------------------------------------------------------------------
Music for your dinner dance
In addition to playing music for "theme party" events, "Crazy Rhythm, Fancy Feet" performs a very wide range of musical styles for the cocktail, dinner and dance portions of an event. Audio samples can be heard by scrolling down this page. Depending upon your musical needs, you can engage a solo pianist, a 12-piece band or anything in between.
If you are in need of only "background music" or you already selected a DJ for the dance portion of your event but would like to include the "live band" element, look no further.
Click on the picture to see our background trio >>>>>>>>> This video includes selections by Nora Jones, Roberta Flack, the Beatles, Dave Brubeck, Sypro Gyra, Johann Strauss and Cole Porter.

We are able to perform a wide range of musicial styles since our musicians have both classical and jazz training. We provide music played by a solo pianist, duo, trio or more.

Our trio pictured above consists of Doug on acoustic and electric bass, Bob on reeds (sax, clarinet and flute) and Heath on piano. Since Bob plays three instruments, the trio has more variety than most trios. Also, if you would like us to stroll occasionally throughout the evening, Heath plays accordion allowing us this fun feature.

We provide instrumental versions of all of the classic holiday tunes for holdiay parties.


Dance Music
When performing for an event that includes dance music, our core group consists of piano, bass, drums and reeds (sax, clarinet and flute). This group includes two male vocalists. It can be augmented with female vocals, guitar, trumpet, trombone and percussion.
"Crazy Rhythm, Fancy Feet" always plays at a volume that is appropriate for the situation. Your guests will be thrilled that they can comfortably talk to each other during cocktails and dinner, while the dance music will be played at a volume that creates plenty of excitement yet doesn't go overboard!
We will "get the crowd going" so to speak, if your guests need prompting. All of the announcements can be made by us, and we will discuss these, along with specific music requests, in advance.
"Crazy Rhythm, Fancy Feet" offers the option of providing dancers to perform choreographed routines, dance among and with the guests, teach a fun, brief dance lesson, or a mix of all three.