Dance Lessons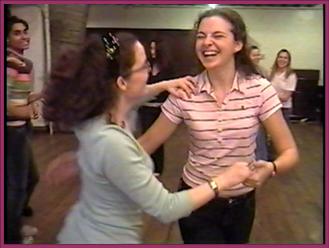 In addition to performing, Bob and Eva teach private and group lessons in many styles of dance.
Teaching for student activites or student life at colleges is quite popular. Click on the picture to view a 2-minute demo of the students at Bryn Mawr College showing us what they learned.
Note: After clicking the picture, a new window will open up saying "Open this content in a new window". Click those words and you will see the video.
We teach the following styles: east coast swing, salsa, foxtrot, waltz, cha-cha, Charleston, country two-step, night club two-step, samba, west coast swing, hustle (disco), Lindy hop (savoy style), Lindy hop (Hollywood style) and Argentine tango.Bob also teaches tap dancing in both swing and funk styles as well as Appalachian clogging.
We challenge but do not intimidate our students when teaching. FUN is the key!
There are many reasons one should learn how to dance. Here are just a few:
1) It is more FUN than running on a treadmill or jogging to keep in shape (in our humble opinion).
2) It is a fantastic way to socialize. Whether you are looking for that special someone; you have that special someone and you want to share an activity together; or you just want to make new friends; you will find that dancing is one of the best activities to accomplish these goals.
3) You will develop your sense of rhythm and creativity, and experience the satisfaction of accomplishing a common goal with your partner when you learn the lead-follow technique of partner dancing. You will be thrilled when you dance that perfect dance.
You always felt you had some dance ability, but you never had the nerve to try it....until now. We would love to hear from you! Don't miss out on the fun and satisfying world of dance.
Bob Butryn -6488 Woodcrest Ave. - Philadelphia, PA 19151 - Ph 267-205-7064 - BButryn@Verizon.net