To go immediately go to your specific point of interest within this category, click below:
program specifics - live music
- Shows for Seniors -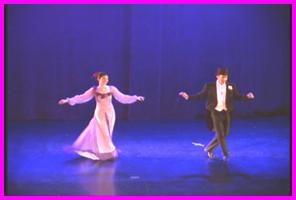 "Crazy Rhythm, Fancy Feet" is the perfect entertainment for the retirement community. It is a fun-filled dance and music show celebrating America's diverse music and dance heritage. Our show is performed by the dynamic dance duo of Bob and Eva to recorded music. Dance routines included in the show are the Charleston, tap, swing, cha-cha, waltz, and a fox trot done in the style of Fred and Ginger. Since Bob also sings and plays sax, clarinet and flute, there are instrumental musical performances such as "Honeysuckle Rose" and "In the Mood" plus audience participation segments such as sing-a-longs and the game "name that singer." All of these are big "hits" with the seniors.
Click on the picture to see a sample video of Show 1 >>>>>>>
We have created 5 different shows for seniors using completely different music and dance routines since we return every year at many venues. A listing and description of these 5 shows can be found by scrolling down this page.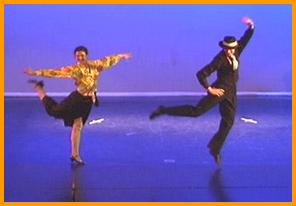 We are aware that there is a wide age range when someone is described as a "senior". We perform different shows when performing at communities which are 55+.
Click on the picture to the right to see our 55+ senior show >>>
After our perfomances, we are told by both the residents and the activities director that we are one of the best acts they have ever had. The show is a "must" when programming your entertainment for the year. If this year is already booked, please call us when you are scheduling for next season or if you have a cancellation this year.
We have been asked for return engagements at EVERY retirement community at which we have performed. If you are interested in seeing a list of communities at which we have performed, please let us know.

Show 1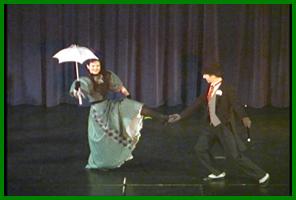 Cakewalk - It is he oldest American partner dance in the show. Created by the slaves mimicking their wealthy owners, this dance was actually embraced by the owners since it is so much fun. True to tradition, the male and female dancers try to "out-do" each other in the solo section.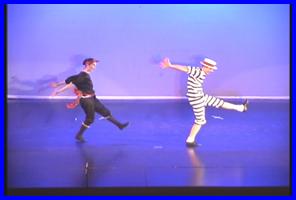 Zany Charleston - A creative mixture of traditional and original steps hail the exuberance of the 1920s in this fun-loving number.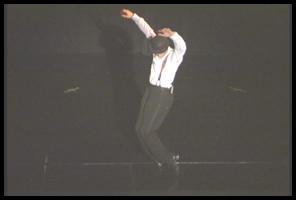 Tap dancing while playing the clarinet - Bob and Eva dance the classic tap routine, the shim-sham-shimmy. To add some extra excitement, Bob simultaneously plays the song "Honeysuckle Rose" on the clarinet.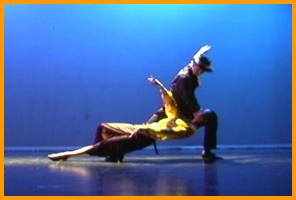 Cha-cha-cha
A fun surprise in the middle of this routine shows the audience what the male dancer is "not" supposed to do to his partner when performing.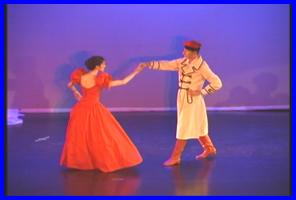 Waltz - Bob and Eva express the elegance and beauty of the world's most popular partner dance. Enter another world when they dance to the theme of "Edward Scissorhands.".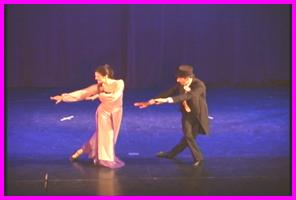 Classy Foxtrot - The elegant sway of chiffon and tails recaptures the beauty and grace of the 20th century's most celebrated dance duo, Fred Astaire and Ginger Rogers. Bob and Eva dance to "Beyond the Sea."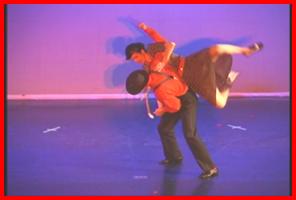 Wild Swing - This boisterous number shows the precise rhythm, great athleticism and crazy antics needed for swing dancing. They do it to "Ain't Nobody Here But Us Chickens."
Other selections in Show 1
Polka - danced by Bob and Eva
Sing-along Medley - audience participation segment in which the residents can show off their beautiful voices
Sax playing - Bob serenades the audience with the classic swing tune "In The Mood." Bob also plays clarinet and flute.
Name That Singer - fun audience participation game
Irish Medley - Bob plays clarinet and sings a medley of Irish favorites.
Show 2
Early Samba - Bob and Eva dance the Maxixe, an early form of samba
Martini Blues - Bob and Eva dance a fun skit in which a tipsy sophisticate and his furious wife dance a one-step
Sing-along Medley - audience participation segment in which the residents can show off their beautiful voices
Waltz - Bob and Eva dance a beautiful waltz while Bob plays flute simultaneously
Swing - Bob and Eva dance to "PA 6-5000" with a bit of audience participation thrown in for good measure
Memory Game - Fun questions from the '40s to challenge the audience
Clogging - Bob and Eva make some noise with their taps doing Appalachian clogging to the song "Chicken"
Cinderella (After Midnight) - A fun skit with the unlikely duo of a jazz sax player and a cleaning lady
Tap - Bob does a solo tap dance to the classic "Sing, sing, sing"
Disco - Bob and Eva perform a Bee Gees number reminiscent of a routine from "Saturday Night Fever"
Flight of the Bubble Bee - Just for the fun of it, Bob shows off his clarinet abilities
Samba - Bob and Eva perform a zany samba to "Cuban Pete". This version is quite different from the samba from an earlier era that started our show.
Show 3 (Broadway)
Thoroughly Modern Millie – Bob and Eva dance the Charleston
Whatever Lola Wants -Tango
Edelweiss – Bob plays flute
My Favorite Things – Bob and Eva dance the waltz
On the Street Where You Live – Foxtrot
It Had To Be You – Sing-along
Cuban Pete - Samba
Thank Heaven for Little Girls – Tap dancing
Broadway Quiz
76 Trombones – Bob and Eva dance the one-step and cakewalk
Fiddler on the Roof – Bob plays Sunrise Sunset and To Life on clarinet and flute
Too Darn Hot – Flute playing and swing dancing

Show 4

Jitterbug - Bob and Eva dance to "Johnny B. Goode" in 1950s outfits transforming the audience back to the era of drive-in movie theatres and greasers.
Name that Lift - Bob and Eva will demonstrate different athletic lifts and throws. The audience has to guess the name of the dance move. Lots of fun.
Tap dancing and sing-along - Bob tap dances while he leads a sing-long to "It Had to be You" and "Embraceable You"
Tango - Bob and Eva dance the romantic Argentine tango
Mozart salsa - Bob plays flute to a salsa version of a Mozart tune. This is quite a novelty and a lot of fun.
Salsa - Bob and Eva dance a hot salsa number to a tune by Steve Winwood
Memory game - An audience participation favorite
Fred and Ginger style foxtrot - Since the audiences love this choreography so much, we decided to repeat this number from Show 1.
Viennese waltz - the world's quickest waltz is also the most elegant. Get lost in the beauty of Austria's most famous export.
Polka - Bob and Eva dance to two classic polkas, the "Too Fat Polka" and the "Clarinet Polka". Bob even plays the clarinet for part of the song.
You Knock Me Out - Jazz and west coast swing is mixed to express the funky rhythms of this contemporary tune.
Begin the Beguine - The finale is danced to this Artie Shaw classic. Bob and Eva switch between foxtrot and swing throughout the song.
Christmas Show
Christmas Time is Here - Eva roller skates and Bob plays flute to this Charlie Brown classic

Here Comes Santa Clause- swing with Elvis

I Have A Little Dreidel -Bob sings and plays clarinet to this Hanukah favorite

Mala Kalikimaka – Charleston / Hula

Frosty / Rudolph Medley - tap

Jingle Bells – Appalachian clogging

Christmas trivia – audience participation

Rockin' Around the Christmas Tree - salsa

Sleigh Ride – polka

Silver Bells – sing-along as well as Bob playing his flute

My Favorite Things - waltz

It's Beginning to Look A Lot… - foxtrot

Havah Nagilah – Bob plays Jewish tune on his clarinet

Here Comes Santa Claus – swing dancing and playing Dixieland on the clarinet

Mummers – strut for New Year's Eve

Jingle Bells - a wild swingin' version by Michael Buble

We Wish You A Merry Christmas - sing along
------------------------------------------------------------------------------
We mentioned it before, but it is worth repeating. We have been asked back at EVERY retirement community at which we have performed. If you want a recommendation, please let us know. We can supply you with a list of communities at which we have performed.
-----------------------------------------------------------------------------------
(audio selections can be heard by clicking the "wedding tab" at the top of this page)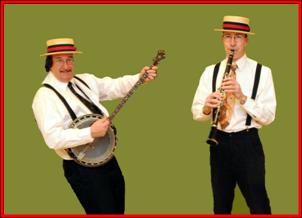 "Crazy Rhythm, Fancy Feet" also provides all of your musical entertainment needs. We provide many styles of music such as classical, background jazz, ballroom and rock. The size and instrumentation of the band depends upon your needs (soloist or 8-piece band).
Please note that we would play "rock" selections only if there were a request for it or if your event was a "family night" party in which there would be younger folks in attendance.
Dixieland music is provided by Bob and Greg (pictured to the right). This is perfect for fun cocktail parties, Mardi Gras and Fourth of July events and any party at which the theme is FUN.
Roaring 20s Theme Party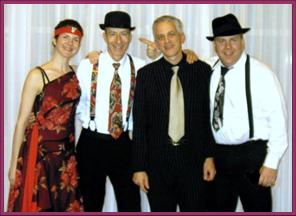 If you are having a "Roaring 20s Party", we provide music with dancers for a 1920s event. Our video shows the guests dancing to our tremendous band playing classic tunes from the 1920s as well as Eva dancing with the guests. Also included in our "Roaring 20s Party" are a dance routines in tap, swing and Charleston as well as a fun 1920s trivia quiz
<<<< Click on the picture to view our "Roaring 20s" party video.
Note: We can expand the band if budget allows. In the sample video, the band pictured to the left is performing. Bob the dancer is also the band leader and reed player (clarinet, sax and flute).
Bob Butryn - 6488 Woodcrest Avenue - Philadelphia, PA 19151 - Ph 267-205-7064 - BButryn@Verizon.net