To go immediately to your specific point of interest within this category, click below:
Music for your wedding: ceremony, cocktails, dinner and dancing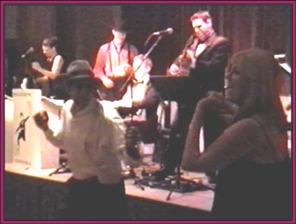 CRFF performs a very wide range of musical styles. Audio samples can be heard by scrolling down this page. Our band consists of the finest musicians and singers in the area.
Depending upon your musical needs, you can engage a solo pianist, a 12-piece band or anything in between.
We play all styles of music needed for your wedding day: classical music for the ceremony, background jazz for the cocktail and dinner hours, and dance music after dinner. It should be noted that you have the option of having dancing throughout dinner. This occurs between courses.
When performing for a wedding reception, our core group consists of piano, bass, drums and reeds (sax, clarinet and flute). This group includes 2 male vocalists. It can be augmented with female vocals, guitar, trumpet, trombone and percussion. We can also provide classical music needed for the wedding ceremony -- for example, a flute and piano duo.
"Crazy Rhythm, Fancy Feet" always plays at a volume that is appropriate for the situation. Your guests will be thrilled that they can comfortably talk to each other during cocktails and dinner, while the dance music will be played at a volume that creates plenty of excitement without going overboard!
We will "get the crowd going" so to speak, if your guests need prompting. We keep this to a minimum, since we firmly believe that the bandleader should not be the center of attention. All of the announcements can be made by us, and we will discuss these, along with specific music requests, in advance.
Alternative ideas for your party
If you are looking for something different for your wedding reception, you might want to consider our band that specializes in "Roaring 20s" music. As a result of the cable show "Boardwalk Empire", wedding couples are having the riotous hot jazz of the 1920s played at their weddings. Our "Roaring 20s" band consists of:
Bob Butryn, the band leader and one of the area's best clarinetists who also sings and plays flute and sax

a pianist

an acoustic bass player (who also plays electric bass)

and a drummer.
Note: We can perform with a smaller or larger band depending upon your needs.
We specialize in swing music and other styles such as Latin, Cajun, zydeco, and ethnic music such as klezmer. Even though this band specializes in non-rock music, if you want rock tunes played throughout your party, we will be happy to do so. You can hear samples of this by clicking on the song selections below.
We offer the option of adding dancers to your party, or as we call it, the extra "WOW" factor.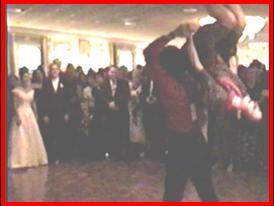 You can make your wedding even more memorable by having us perform a dance routine such as a wild swing, a zany Charleston, an exciting disco routine, a hot salsa, or a romantic tango. The dance routine is performed by Bob Butryn (who is also the clarinetist) and his dance partner, Eva Brothers.
Click on the picture to see a video of our wild swing dance routine. >>>>
Since Bob is already at your affair leading the band, he does not charge for his dance services. However, there would be an additional charge for Eva. Also included in the price is an optional FREE private dance lesson for the bride and groom to give you the confidence you want for the "first dance".
We offer many options when booking our band, so please give us a call so we can talk about what you had in mind. Together, we can design an affair that will reflect your individual tastes, in which the outcome will be excellent!
-----------------------------------------------------------------------------------------
Samples of our "non-rock" and background music selections
Samples of our rock repertoire:
2000's
Our Top 40 tunes are always changing. Please ask for a current list when you contact us.
Please request our complete songlist when you contact us.
<![if !supportLineBreakNewLine]>
---------------------------------------------------------------------------
Bob Butryn - 6488 Woodcrest Ave. - Philadelphia, PA 19151 - Ph 267-205-7064 - BButryn@Verizon.net